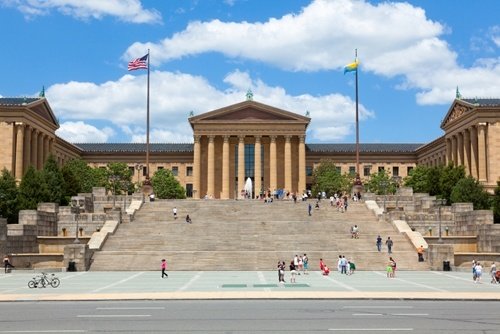 Run up the steps like Rocky.
If you're spending Valentine's Day in the city of Brotherly Love, there are plenty of opportunities to learn more about the area. Check out the list below for top sites in Philadelphia:
Go back in time
History buffs flock to this city to learn more about icons like The Liberty Bell and The Declaration of Independence. But if you want to walk through history, stop in to the Eastern State Penitentiary. See where Al Capone was housed and step through a real cell meant to elicit regret for a crime.
Shop local
The Reading Terminal Market is an expansive indoor market that offers one-of-a-kind foods. Fresh breads will make your mouth water and gorgeous chocolates sit behind glass cases. Sample these delicacies as you walk and stop by Lancaster County Dairy for Amish products. Be sure to leave room in your suitcase to take treats back home!
Enter food rivalries
Ask locals about where to get the best Philly cheesesteaks and you will enter into a bitter food battle. Some will swear by cheezwiz, others will insist on only the real thing. Lucky for you, there are nearly 20 shops that claim to have the best cheesesteaks in the city – so you can eat your way through and choose which side you're on.
Run like Rocky
Movie buffs will want to embrace their inner boxer by running up the 72 stone steps to the Philadelphia Museum of Art. The Rocky steps – named for Sylvester Stallone's Rocky Balboa – make up one of the most iconic movie set locations. Be sure to grab a photo next to the bronze statue of Rocky. Who knows – you may run into the original Rocky like these visitors did!
Snap some love
Love Park, made famous by the L-O-V-E sign, is the perfect place to relax for a quiet afternoon with some snacks and a book after a stressful shift. This sculpture is original to Philly, but you can also catch its doppelgangers in New York City, Indianapolis and Scottsdale, Arizona. You can also stop by the Independence Visitor Center to catch a glimpse of the XOXO statue.
With only 13 weeks in the city, it can feel like a challenge to see everything. Philadelphia has so much to offer, you'll want to keep coming back to explore.