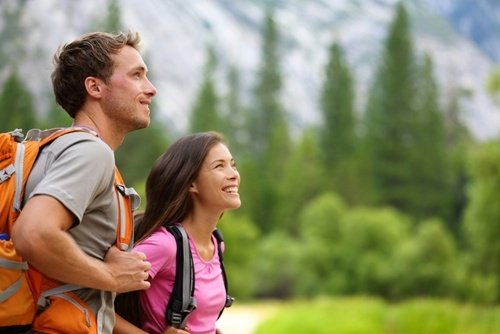 There's so much to see in Oregon.
Being a travel physical therapist gives you the chance to spend 13-26 weeks in a city of your choosing. That gives you enough time to seek out the hidden gems to make the time fly by. Portland, Oregon – more affectionately referred to as PDX – is a bustling city that offers a long list of attractions for tourists and locals alike.
For theater lovers
Take advantage of PDX's thriving theater scene: The city hosts the Oregon Shakespeare Festival, which showcases modern retellings of your favorite plays. For more modern plays, step over to Portland Center Stage at the Armory. Take part in discussions with members of the theater community after the show as well.
Foodies gather downtown
Vegan tiki restaurants, double stacked cheeseburgers and vegetarian options galore: It's entirely possible to spend all your free time trying the different restaurants and sandwich shops PDX has. And don't forget to stop into the many local breweries along Distillery Row, according to Time magazine. Several microbreweries work side-by-side with distilleries, like Aviation Gin. You can take a tour to see how your favorite brews are made and sample some seasonal offerings on tap. Be sure to grab a bottle of your favorite!
Wander through the woods
Despite Portland's reputation for rainy days, you can escape outside the city limits and take in the breathtaking scenery. The Travel Channel recommended grabbing a paddle and a kayak to explore the city from the Willamette River with the Portland Kayak Company, where you can glide on your own or as part of a group. If you prefer to stay on solid ground, you can pack a picnic and strap on a backpack to take a walk along one of the many paths in Forest Park or "The Gorge," the nickname for the Columbia River Gorge.
For the wine lovers
California and Washington aren't the only West Coast states known for amazing wine. Oregon's cool climate helps create light, drinkable wines, like Pinot Noir. Spend a foggy afternoon at one of the top wineries in Portland according to Portland Monthly, St. Innocent Winery. This winery is known for its Pinot Noir and Pinot Gris. Pair your glass of wine with a plate of locally gathered produce or fresh cheese while overlooking the winery for a relaxing evening.
Wander through museums
You could easily spend several afternoons wandering through The Portland Art Museum. The museum features paintings from around the world as well as photography, metal works, and sculptures from prominent figures such as Auguste Rodin. You can also stop by to join the Portland International Film Festival, where you can see the latest documentaries as well as films from new directors.
PDX is a great place for travel physical therapists to work. The city is brimming with a variety of activities waiting to be discovered.