Jackson Therapy Partners, an award-winning therapy and allied health staffing agency, announced that its president, Bobbi Henson, has been named the 2023 "Orlando Woman of the Year" by the National Diversity Council, a nonprofit organization championing diversity and inclusion across the county. The prestigious distinction recognizes Henson's professional excellence and consistent leadership as a role model and mentor for other women.
Each year, this awards program honors women serving as courageous leaders, who demonstrate the importance of speaking and acting in the spirit of collaboration and lead the charge in promoting and empowering other women as leaders and innovators.
"I am deeply honored to have won the 2023 Orlando Woman of the Year Award from the National Diversity Council, and I was humbled to learn that it was my team who nominated me," shared Bobbi Henson, president, Jackson Therapy Partners. "Throughout my career, I've worked to build an open and healthy work culture where communication, inclusivity and understanding are priorities, opening the door to women and minorities alike whose insight is important on any team and critical to positive change."
"The 2023 Woman of the Year Award recognizes those that are changemakers working towards equity for all," said Sofia Anthony, Interim CEO of the National Diversity Council. "We are proud of their leadership excellence and commitment to creating pathways for all women's success."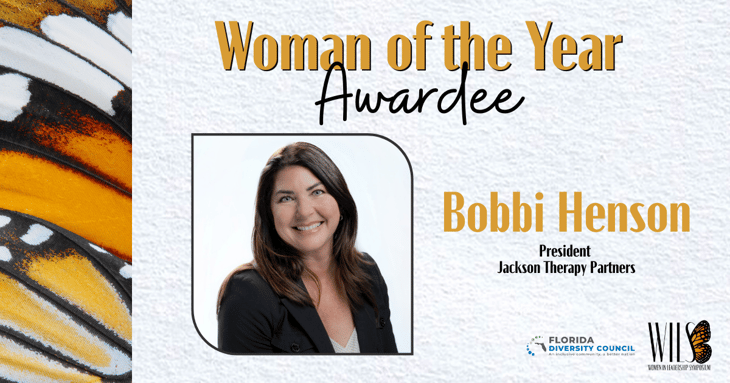 About The National Diversity Council
The National Diversity Council is the first non-profit organization to bring together the private, public, and non-profit sectors to discuss the many dimensions and benefits of a multicultural environment. The success of the Texas Diversity Council, founded by Dennis Kennedy in 2004, served as a catalyst for the National Diversity Council, launched in the fall of 2008. The NDC is a forerunner of community-based, national organizations that champion diversity and inclusion across the country. It is made up of state and regional councils.
About Jackson Therapy Partners
Ensuring continuity of care for over 1,300 facilities nationwide, Jackson Therapy Partners provides highly skilled therapists and allied healthcare professionals to schools, outpatient clinics, hospitals, skilled nursing, and rehab facilities. Clients of Jackson Therapy Partners receive customizable and scalable workforce solutions on a seasonal or annual basis that can include travel contracts, teletherapy, contract-to-hire, or direct-hire options. Jackson Therapy Partners is part of the Jackson Healthcare® family of companies, one of the largest healthcare staffing organizations in the U.S.