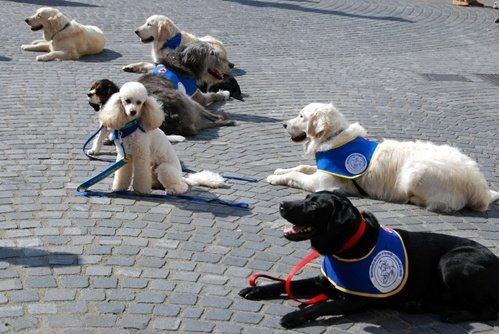 One way that therapists are treating their patients is with the help of therapy dogs.
Therapy can come in many forms, from monitored exercises to crafts that develop fine motor skills. When treating patients who have undergone a traumatic experience, getting to the root of an emotional problem can be difficult. One way that therapists are treating their patients is with the help of therapy dogs – specially trained furry friends that provide emotional support in the most fascinating and inspirational ways.
According to the American Kennel Club, therapy dogs can reduce anxiety, lower blood pressure and heart rate and even increase levels of endorphins. They visit hospitals, nursing homes, schools and other care facilities, spreading comfort and joy to those who need it most.
Here are three examples of inspirational therapy dogs at work:
1. Kayla the boxer
Kayla is a boxer with three legs, a calm demeanor and a big heart. Mother Nature Network reported on her journey from the streets to a shelter and finally to her visits to nursing homes where she spreads joy. Although Kayla lost her leg after it was severely broken on the streets, she exhibits a happy and friendly personality that many patients find irresistible. Kayla was trained to stay calm around the sights, sounds and smells of medical equipment. Afterwards, her owner would bring her to local assisted living facilities where she would visit the residents, wander the halls, and cuddle up to anyone in need of cheer. Kayla continues to make weekly visits to the delight of her new friends.
2. Smoky the Yorkshire terrier
Smoky was one of the first therapy dogs. She was found in a foxhole in New Guinea during World War II and was sold to Cpl. William Wynne in 1944. According to NJ Pet Community, Smoky traveled with the 5th Air Force, 26th Photo Recon Squadron on 12 sea and air missions.The little terrier survived 150 air raids in New Guinea and weathered a typhoon in Okinawa. As a therapy dog, Smoky entertained wounded troops by performing tricks to wild applause. After the war ended, Smoky even had her own Cleveland-based TV show. She's now immortalized by a life-sized bronze statue at the Rocky River Reservation in Ohio.
3. Zoe the Australian Sheppard
Sometimes, a therapy dog can get patients to open up about their personal lives and help therapists develop a treatment strategy. Such was the case with Zoe, a specially trained therapy dog with the ability to relax highly anxious patients. Pet Education reported that Zoe helped therapists speak to one patient who, until she met Zoe, had refused to participate in therapy sessions. When the patient met Zoe, she immediately started to pet the dog and eventually opened up to her therapists. She left her room to go on a walk with Zoe, and from that point forward began to participate in group therapy sessions.
While it's difficult to scientifically pinpoint just how or why therapy dogs work, there's little doubt that they can have significant positive influences on patients. Above all, they are furry friends who don't ask for much in return and are always there to provide comfort.