As a physical therapist you're surrounded by job opportunities, and having your PT Compact license opens you up to an even bigger world of opportunity. The compact license allows you to quickly apply for jobs in multiple states across the country without having to apply for a state licensure first, since you already have permission to practice there! The PT Compact streamlines the licensing process so you don't have to juggle the requirements or cost of each state individually. Learn more about getting a compact state license as a physical therapist:
What is a PT compact license?
As we mentioned above, the PT Compact streamlines the licensure process for physical therapists to practice in states other than their home state. By streamlining the licensing process, you skip navigating the different requirements for every state you may want to work in. Getting a compact state license also means you skip the fees and background checks required by each state you want to take a travel or staff job in. The Physical Therapy Compact currently has 34 states participating in program with even more states looking to join.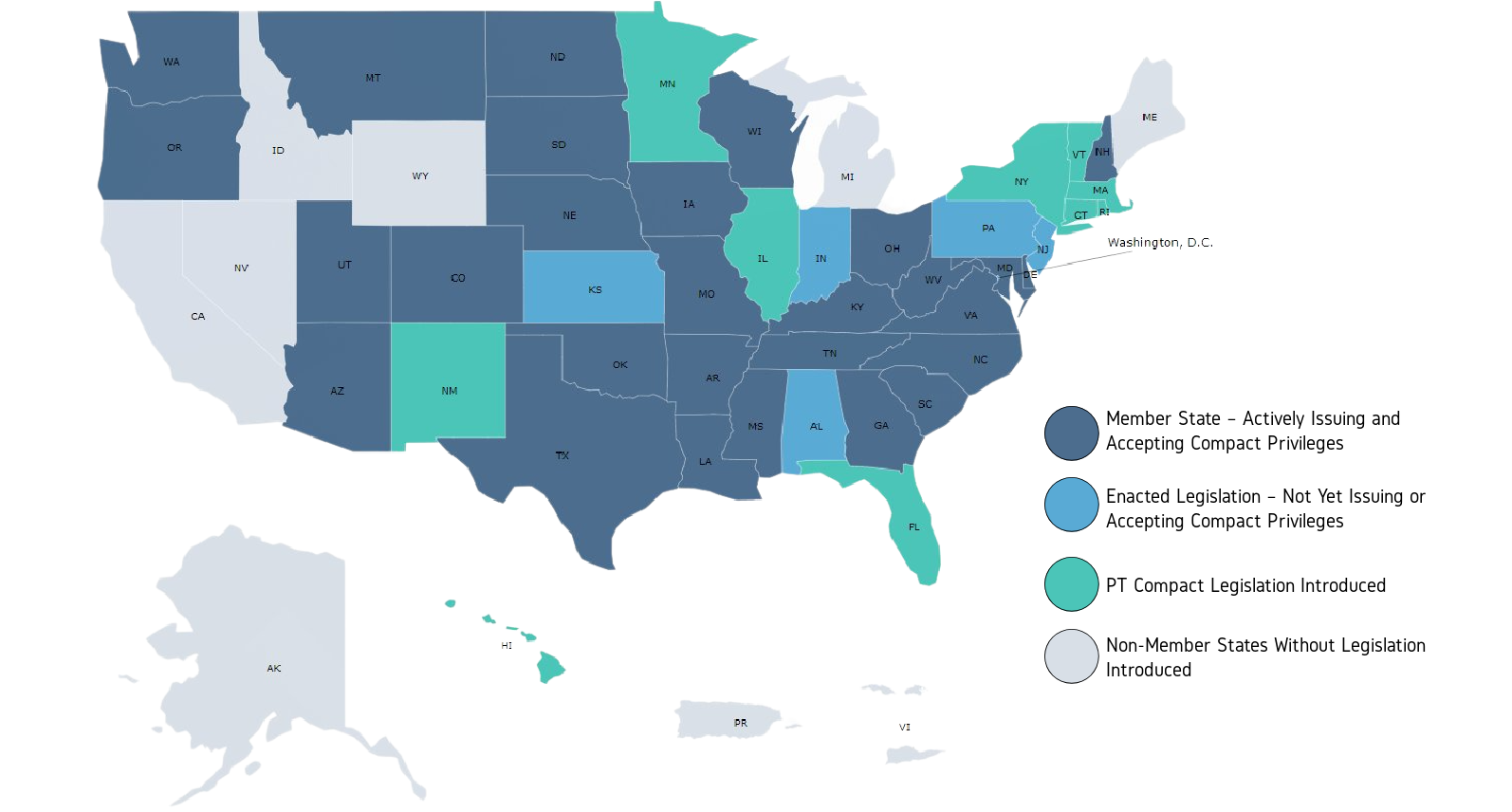 Benefits of a compact license
The process of getting a compact license is not only streamlines the multiple steps, requirements, and documentation for each state you want a license for, but it also saves you money in the licensure process. In some states, you may need to complete their jurisprudence exam before applying for your PT Compact license, but it's generally a fast process that can take as little as 10 minutes to apply. Having a compact PT license allows you to apply for jobs across the country quicker, before they're filled by someone else, by already being licensed to provide patient care in that state. If you're seriously considering traveling full time or even occasionally, the PT compact may be a great benefit for you.
How to apply for a compact license
There aren't many requirements you must meet before getting your PT Compact license. First, you must hold a current and valid license in your home state, and your home state must be actively accepting and issuing compact licenses. You have to be in good professional standing and have no active encumbrances or disciplinary action in the past two years. And that's it! If you meet those criteria's, you can start following the step-by-step process for applying. Each home stat has slightly different costs and jurisprudence exam requirements, so be sure to check your states exam requirements as well!