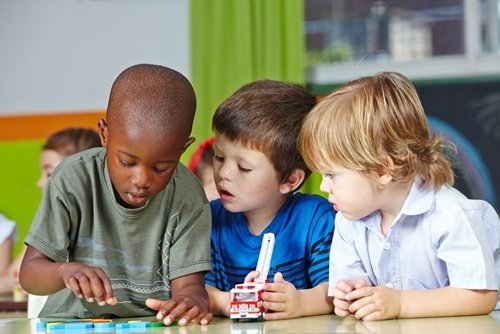 With Halloween just around the corner, it can be fun to get into the spirit of the holiday.
The changing of the seasons can be a great reminder to switch up some of your therapy routines, especially when working with the same patients long term. Switching up activities or introducing a fun craft can engage younger patients and make them more interested. Keep reading to discover our favorite speech crafts for this autumn:
1. Speech trees
This speech craft inspired by The Dabbling Speechie is excellent for kindergartners through students in the fourth grade. Start by preparing a poster-sized image of a tree without leaves. Next, prepare red, yellow and orange leaves – these will have phrases on them.
Print out a worksheet with sentences like the ones below:
In the fall I see …
In the fall I taste …
In the fall I hear …
Then, on the leaves, write the phrases that complete the sentences, such as:
… piles of leaves.
… pumpkin pie.
… turkeys gobbling.
Laminate the tree and the individual leaves, then place a piece of tape or sticky tack onto each of the leaves. Have the child read and complete each sentence aloud, then attach the corresponding leaf to the tree.
2. Monster articulation
With Halloween just around the corner, it can be fun to get into the spirit of the holiday while learning. For younger learners, consider this craft suggestion from Sweet Southern Speech that combines coloring with articulation practice. For this craft, search online for free monster coloring pages. Then print out a list of adjectives which describe the monsters. As the children color in the ears, for example, have them say the adjective that describes them: pointy, round, furry, etc. To record their progress, you may want to add check boxes near each word that correspond to the words' syllables. For every correct pronunciation, make a checkmark.
3. Spooky letter pronunciation
For this craft, inspired by an activity recommended by My Teaching Station, you'll need a small paper plate, a stick, some coloring supplies, alphabet letters, glue and scissors. First, have the student draw a ghost or monster on the back of the plate. The character should have a large, open mouth. After they've colored the monster, cut out the mouth, so that you can see through the plate. Then, attach the stick to the bottom of the plate so the student can hold it. Arrange the letters on a table in any order, then have the student look through the open monster mouth at an individual letter. Have them repeat the letter sounds.