Enjoy a Program with No Payout Limits and No End Date
As a "thank you" to our working professionals who refer their friends and colleagues, Jackson Therapy Partners will pay you an extra one dollar per hour ($1.00) for every regular hour your referral works. Get started by referring a candidate inside our traveler portal ProVenture.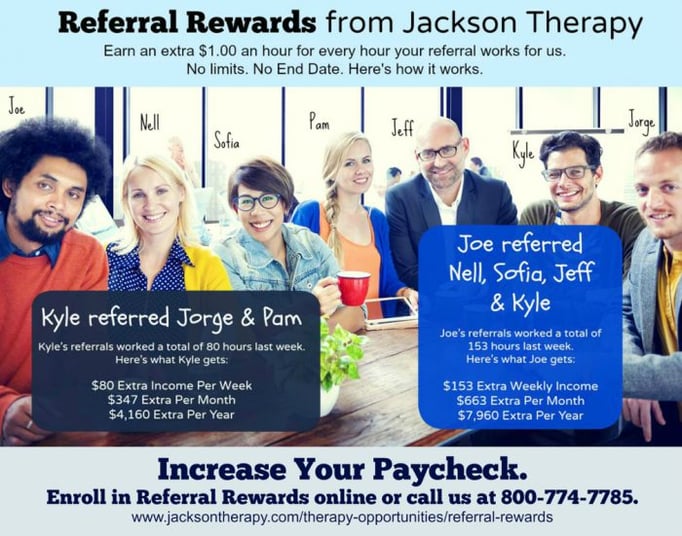 Program Guidelines
This referral payment program only applies to referrals of individuals that have never worked for JTP before, and there is no guarantee that each referral will be hired. All of the placement decisions are at the sole discretion of JTP.
Federal, state, and local taxes will be deducted from the referral payment, and if you are enrolled in JTP's 401K plan, your deduction and matching will apply to t
he referral payments just as it does for your regular pay.
JTP staff and family members are not eligible for the referral payments program.
In the event that any person you referred takes a break from employment at JTP, payments will resume if the referral returns within six months.
In order to receive payment, referral must work 30 days without termination.
Referral needs to be registered prior to start date.
Referral Rewards Paid Out Monthly
To be, and remain eligible for the Monthly Payment Program the referrer must:

Must be currently working.
Have current and accurate contact information on file with JTP.
Be in good standing with JTP.

You will receive payments each month that the person or persons you referred works for JTP, as long as you remain eligible for the program.
There is no limit to the number of hours which you can be paid.
Monthly payments are not paid on holiday, call-back, vacation, on-call, or orientation/training hours.
JTP has the right to change or end the monthly payment options at any time. If this happens, you will be paid a one-time fee for each person you have referred who is working at that time.
Under special circumstances, such as an employee being called into active military duty, JTP has the right to waive or extend the rules as deemed appropriate.
Payment is distributed monthly (15th of the following month).
Timecards must be turned in to receive payment (No minimum hours required).
Tell your recruiter you want Referral Rewards and start earning more, today.