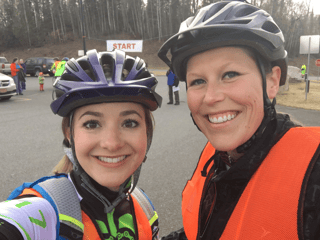 When therapists decide to become travelers, many of them do so purely for the adventure of it. One particular Jackson Therapist took her love for adventure one step further and challenged herself to complete a 100-mile bike trek across Alaska. Heather is a traveling Physical Therapist on assignment in Alaska who decided just exploring Alaska wasn't enough, she wanted to do more (while helping others). Read on to learn more about Heather and her amazing feat.
Making time for training
Heather has been a traveling therapist for the past three years. When she got placed in Alaska, she was ecstatic since it was one of her top destinations she wanted to explore.